---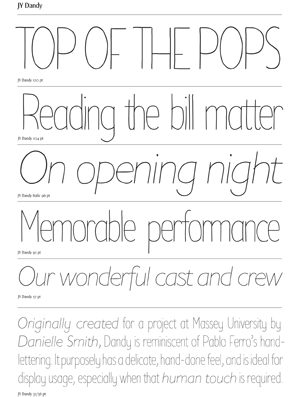 Needing that hand-drawn look? Our newest typeface family is JY Dandy, designed by Danielle Smith. And like so many of JY&A Fonts' designs, it's rupee-equipped. Read more here.

A number of fonts from JY&A Fonts are now equipped with the rupee symbol, to the Unicode 6·0 standard. Click here for the PDF.


---
Read more about JY&A Fonts' history as one of Australasia's leading lights in type, and the region's own internationally known typefoundry. more




---
See Australasia's most established retail range, offered for licensing directly and through MyFonts.com, Phil's Fonts, Inc., Fonts.com, Typos, and the Type Quarry. Click here to get a graphical list of our font families.
JY Ætna | JY Artemis | JY Arts & Crafts | JY Boomerang | JY Circles | JY Comic Pro | JY Dandy new | JY Décennie and JY Décennie Titling | JY Décennie Express | JY Flax | JY Integrity | JY Klin | JY Koliba | JY Novalis | JY Pinnacle | JY Raj | JY Rebeca | JY Tranquility | Yan Series 333 JY



---
Globally recognized custom work, from motorway signage to magazine type to banking logotypes, all compliant with international standards. more





---
Contact us any time—we'll aim to get back to you within 24 hours, often sooner. more

---
Miscellaneous ramblings, not just on type, but branding, marketing, leadership, management, media and politics.
If you'd like a laugh, check out our typographic humour blog, Font Police.
Follow Jack Yan on Twitter here, or check out his Facebook fan page here.