---
As well as our collection, JY&A Fonts works on custom type commissioned by clients—and we have one of the longest histories Down Under on working on large international commissions.
From incorporating a logo or signature into a font to creating a unique typeface for an advertising campaign, magazine, book, signage, or a company, we want to work with you.
For any company, custom fonts are often the source of differentiation in identity and brand creation, or can capture a mood in an advertisement on television or in print. JY&A Fonts understands.
We've also worked on font modifications and ensured total compliance with the original end-user licence agreements.
In addition, custom fonts can be more cost-effective for large companies. Owning a font outright can often be cheaper than paying for multiple end-user licences.
At right is a small selection of some of our projects over the years—there are more which you'll have seen where we've been behind the scenes. Our type has met some of the strictest demands from extended character sets for eastern European languages to legal requirements for road signage.
With Jack Yan one of the founders of type design advocacy group TypeRight, we are committed to ethical design, which means all our works are strictly original or created in accordance with the end-user licence.
Contact us to discuss your commission.

---
Jack Yan (LL B, BCA (Hons.), MCA) and the JY&A Fonts' team have provided legal services specializing in the typographic industry in the US, Australia and New Zealand. Among the work we have provided:
• expert witness testimony in trade mark cases where typography and typefaces are involved;

• legal opinions on intellectual property involving type;
• "forensic" opinions in cases of alleged forgeries involving type.
Cases are dealt with in the strictest confidence. Examples include: (a) cases where there is alleged confusion between trade marks; (b) cases of alleged copying where the plaintiff believes the defendant could not have arrived at a particular typeface choice independently; (c) a divorce proceeding where one party produced a document purportedly made in the 1980s when that particular version of the typeface could not have existed; (d) a legal opinion for a client that needed to know the legal status of font metrics.


JY Fiduci, for Lucire, 2003–6. Inspired by Caslon and used for subheadings and callouts in the international fashion magazine (New Zealand and Romanian editions).

DB Logo, for Typos and Deutsche Bank, 2001–2, with David Philpott, and the permission of Linotype AG. Used for the words Deutsche Bank in the client's logo.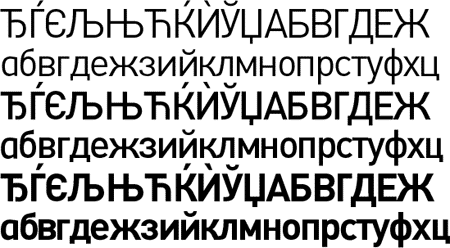 Cyrillic typeface family, for international client, 2009; Latin Extended set by Wayne Thompson of Australian Type Foundry.


Transport Medium, for Mission Hall and New Zealand Transport Agency, 2006. Based on the design by Jock Kinneir and Margaret Calvert. Spacing to New Zealand regulations.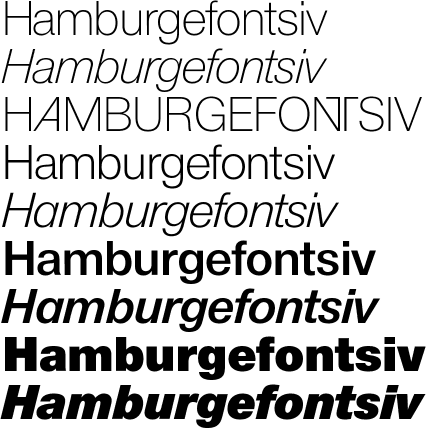 Lucire for Lucire and JY&A Consulting, 2001–6. Inspired by Helvetica by Max Miedinger and Edouard Hoffman. Selected weights only shown.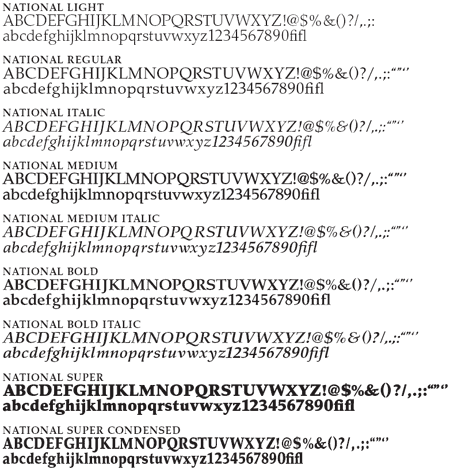 National, by Paul Clarke of Paul Clarke Creative for First National Real Estate, 2001. Legal opinion, detailed above with the client's permission.

MoneyCenter, based on an earlier design by Monotype, 1996. Experimental commission for Knight–Ridder.

Guildford, for Guildford Grammar School, 2008.

Slabb, by Kris Sowersby and completed by Jack Yan, 2005–6. Used in Lucire from 2006 to 2008.