Lucire launches on Ipad and Android, with other editions to come
Wellington, October 3 (JY&A Media) Lucire, one of the fashion magazines founded in the dot-com era that branched into print in the mid-2000s, has made its way on to both Ipad and Android format.
Through US–Indian venture Magzter, Lucire now retails for both predominant tablet platforms with its latest issue, featuring actresses Denise Richards and Audrina Patridge, both shot by Andrew Matusik. There are also stories closer to Lucire's New Zealand home, such as a profile on Julian Danger, lavish travel pieces in Annecy, Phuket and Jamaica, and photographic shoots by Holly Broomhall and Louise Hatton, among others. It also has in-depth articles about the fashion industry, examining the role of socialites on trends, and the sustainable sourcing of textiles.
The issue had a soft launch in early September, when it met with acclaim from early downloaders. It follows Lucire's retailing through Scopalto, a French website that retails its PDF editions.
Magzter has an app through which users can subscribe to Lucire for US$6·99 per issue. The app is also sold via Amazon.com, opening Lucire up to a larger number of readers Stateside.
The magazine says it appeals to early adopters who want content that's a step up from mainstream fashion publications.
'We deliver not only the lavish shoots and features, but articles that appeal to an intelligent, inquiring fashion enthusiast,' says founder and publisher Jack Yan. 'They're the ones who are sick of the same-again coverage of mainstream publications.
'Since we started in 1997, we've enjoyed experimenting and being at the forefront of new platforms. While Ipad apps have existed before, we're delighted to be able to offer Lucire on Android as well, and in upcoming issues, we'll push further on what the software will allow,' he says.
'It seems appropriate to launch into new platforms just shy of our 15th anniversary. In October 1997, we were the first commercial online fashion magazine in New Zealand, found and read by early adopters. Going on to these platforms complements our core website at http://lucire.com, which is among the internet's longest-running fashion publications.'
Mr Yan says there are further products under development at Lucire spawning from its entry into new electronic formats this year.
The Magzter app can be downloaded at http://itunes.apple.com/us/app/magzter-the-global-mobile/id412163953?mt=8&ls=1 for Ipad, Iphone and Ipod Touch, or at https://market.android.com/details?id=com.dci.magzter for Android. A full run-down of contents can be found at http://lucire.com/2012/0804ll0.shtml.
Images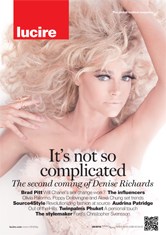 Lucire cover, issue 28
High-resolution JPEG, 1,523 kbyte
Modelled by Denise Richards
Photographer credit: Andrew Matusik


Lucire logo (for print use)
Adobe Illustrator 9·0 EPS, 75 kbyte
Rename filename suffix to .eps after downloading
Other images available at http://jyanet.com/press/photo.htm. A username and password are required.
About Lucire
Lucire, the global fashion magazine (www.lucire.com), started on the web in 1997. In October 2004, it became the first magazine in its sector to extend its brand into a print magazine. By May 2005, it became the first web magazine to spawn international print editions. Lucire became the first fashion industry partner of the United Nations Environment Programme (UNEP, www.unep.org). It is headquartered in Wellington, New Zealand and published by Lucire LLC. For print edition information, see <http://www.lucire.net>.
About JY&A Media
JY&A Media, part of Jack Yan & Associates, publishes and licenses magazines, in print and on the web, and produces other interactive content. Best known among its titles is Lucire, the fashion magazine which launched online in 1997 and spawned international print editions in 2004. An internet pioneer, it has been publishing and creating online titles since the early 1990s. More on the company can be found at http://jyanet.com/media.
Notes to editors
Lucire is a registered trade mark of Jack Yan & Associates and subject to protection in certain jurisdictions. All other trade marks are the properties of their respective owners and are only used in a descriptive fashion without any intention to infringe.
Contacts
Jack Yan, Publisher
Lucire
T 64 4 387-3213, F 64 4 387-3213
E jack.yan

@

jyanet.com
Elyse Glickman, US West Coast Editor
Lucire
T 1 310 497-7157
E elyse.glickman

@

lucire.com
Leana Keen, Associate Editor, UK
Lucire
E leana.keen

@

lucire.com
Simone Knol
Lucire
C 44 7876 701-505
E simone.knol

@

lucire.com
###