Posts from —
May 2023
London and Wellington, May 19 (JY&A Media) One of the Highly Commended prizes at the Business Book Awards 2023 in London earlier this week, in partnership with Pathway Group and organized by ThinkFest Ltd., was won by a Wellington author.
Panos: My Life, My Odyssey, the autobiography of the Greek–Swedish swimwear designer Panos Papadopoulos, was ghost-written by Lucire publisher Jack Yan.
Mr Papadopoulos founded Panos Emporio AB, Sweden's most famous swimwear company, and was branded by the Swedish press as the 'king of swimwear'.
Mr Yan first met Mr Papadopoulos in the 1990s while researching a story for Lucire, and was approached to ghost-write the book in 2021.
Using notes, interviews and personal knowledge, the book came together in Wellington over ten months in 2021, and was published by LID Publishing in London last year. The original manuscript was done in WordPerfect, which could handle the text and provide reasonably realistic previews of the pages.
Mr Yan also typeset and laid out the inside of the book, while LID assigned the cover to experienced book designer Caroline Li. Martin Liu, COO of LID Publishing, oversaw the publication.
LID was also responsible for the grand prize winner on the night, Nicholas Janni's Leader as Healer. Panos: My Life, My Odyssey won a Highly Commended in the Business Journey category.
The two titles were LID's winners, selected from 100 books entered.
Literary agent and publishing coordinator Jacq Burns, former commissioning editor at Random House and editorial director at Harper Collins (where she edited Men are from Mars, Women are from Venus; Who Moved My Cheese?; Chicken Soup for the Soul; and Toddler Taming), led the judging panel, which comprised an additional 42 experts.
Images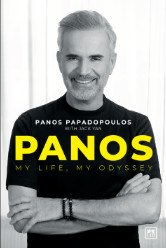 Panos: My Life, My Odyssey cover
High-resolution JPEG, 1·12 Mbyte
Official images from the Business Book Awards 2023, by Edwin Ladd of Mr Ladd Media, are available on Flickr.
About Lucire
Lucire, the global fashion magazine (lucire.com), started on the web in 1997 from its base in Wellington, New Zealand, the country's first commercial online fashion magazine. In 2003, Lucire became the first fashion industry partner of the UN Environment Programme (www.unep.org). In 2004, it became the first magazine in its sector to extend its brand into a print magazine. In 2005, it became the first web magazine to be licensed as international print editions.
Notes to editors
For more information about LID Publishing, please visit www.lidpublishing.com.
Lucire is a registered trade mark of Jack Yan & Associates and subject to protection in certain jurisdictions. All other trade marks are the properties of their respective owners and are only used in a descriptive fashion without any intention to infringe.
Contact
Jack Yan, CEO
Jack Yan & Associates
T 64 4 387-3213
E jack.yan

@

jyanet.com
Teya Ucherdzhieva, Communications Executive
LID Publishing
M 44 7928 666-131
E teya.ucherdzhieva

@

lidbusinessmedia.com
###
May 19, 2023 No Comments