Posts from —
October 2022
Wellington, October 13 (JY&A Media) Lucire, the international fashion magazine that started in Wellington, commemorates its 25th anniversary on Friday week New Zealand time.
Originally an online publication, it has since expanded to international editions both in print and on the web.
The brainchild of Wellingtonian Jack Yan, Lucire started in his former home office in Rongotai 25 years ago—though its roots lay in a Victoria University postgraduate project the year before.
'I was fascinated by fashion publishing since I was a teenager,' Mr Yan recalls. 'I was already doing work for print agencies and printers after school, but of course they weren't going to let a teenager on to the big stuff. When you're hand-lettering a black-and-white menu for a local event, you look at where the pinnacle of the profession was. Who had the best typesetters, printers and photographers?'
He says he bought a copy of the Australian Studio Collections magazine in 1989, which inspired him.
'I was already designing digital typefaces—fonts—at this point, and we also had a DOS-based digital magazine that was sent round bulletin boards,' he recalls. 'But I always wanted to do more.'
When he saw the World Wide Web for the first time, he says he saw the possibility of Lucire, though there were no online fashion publications initially.
'The first one was Fashion Net in 1994–5,' he recalls. 'There were people talking about fashion on bulletin boards, but Fashion Net was the first one I encountered to actually have a website and its content on it, not just a promo page on the web.' He struck up a friendship with Fashion Net's founder, Stig Harder, who would go on to publish Lumière, arguably the web's first "glossy" fashion magazine.
'But there was no Vogue or Elle or Harper's Bazaar. There wasn't even a Fashionmall, despite what they claimed in later years.'
By this point, Mr Yan already had a design and business magazine on the web, called CAP Online, which, with hindsight, familiarized him with the world of online publishing.
During his honours' year for his Bachelor of Commerce and Administration in 1996, Mr Yan used the idea of an online fashion magazine for his innovation project. A friend later named the magazine Lucire, and in 1997 he set about building the first edition.
His first feature interviewee was Laurie Foon of Starfish, who was recently elected to the Wellington City Council for her third term.
'Laurie didn't even have an email address or website in 1997, but she was so gracious at helping out this guy who walked into her store one day asking for an interview,' Mr Yan recalls.
When Lucire launched at midnight on October 21, 1997—20th in the US, which would be the country that initially made up 70 per cent of its visitors—there were stories on Ms Foon, an online retailer in California, and travelling in Bali. The one earlier fashion magazine in New Zealand's cyberspace, Wellington Polytechnic's Fashionbrat, had by this time finished, having run for a single issue during 1996.
In 2003, the United Nations Environment Programme, now celebrating its 50th anniversary, teamed up with Lucire to promote sustainable fashion. As a result, Lucire is the first fashion industry partner of the UN organization.
It could have simply remained New Zealand's longest-running online fashion magazine, but in 2004 Mr Yan decided to diversify into print—a risky move as it was largely unprecedented. In the 1990s and early 2000s, it was more common to go from print on to the web.
Since then, Lucire has appeared in print in New Zealand, Romania, Thailand, Qatar, Bahrain, and Saudi Arabia, while the original website continues alongside a US edition called Lucire Rouge. A men's website, Lucire Men, also appeared in the 2010s and was an advertiser favourite mid-decade.
Past and present editors have included Rola Al-Ouda, Stanley Moss, Sopheak Seng, Elyse Glickman, Jody Miller, Joanne Gair, Lola Cristall, Jamie Dorman, Beth Follert, Nikko Kefalas, Summer Rayne Oakes, M. K. Johnson, Stevie Wilson, Devin Colvin, Samantha Hannah, Mirella Lapusca, Laura Ming-Wong, Simone Knol, Susan Kelly, and numerous others, while Aljawhara Al-Otaishan, Valentin Lapusca, and Miguel Kirjon have been among Lucire's publishers in different countries.
Print cover models have included Gal Gadot, Laura Vandervoort, Violett Beane, Denise Richards, Javicia Leslie, Camille Hyde, Brittny Gastineau, Vanessa Carlton, Sarah McLachlan, Stacie Jones Upchurch, Nicky Hilton, Theodora Richards, Jennifer Siebel Newsom, Olga Fonda, Amber Peebles, Monica Gabor, and Cinthia Moura, with Elena Sartison holding the record for the greatest number. Damien Carney, Jon Moe, Lindsay Adler, Gray Scott, Andrew Matusik and Kiwi photographer Dave Richards have shot the most print covers. Sopheak Seng, Joanne Gair, Nikko Kefalas, Adrian Gutierrez, Cannon and Linh Nguyen have worked on the most covers in creative direction, make-up and hair. On the web, the photography of Rebecca Thorpe, Catherine Leroy and Malcolm Brow kicked things off in the 1990s.
'When starting out in 1997, of course I was hopeful we would be celebrating our 25th anniversary,' says Mr Yan. 'But now we're here, it feels a little surreal. We're looking back on over 100 print covers and goodness knows how many iterations of the website.'
A 25th anniversary print edition will be out before the end of 2022, although Lucire KSA has already run the first quarter-century story in print this month, while the website (lucire.com) will feature a series of anniversary articles over the next several months.
Notes for editors
Lucire is a registered trade mark of Jack Yan & Associates and subject to protection in certain jurisdictions. All other trade marks are the properties of their respective owners and are only used in a descriptive fashion without any intention to infringe.
About Lucire
Lucire, the global fashion magazine (lucire.com), started on the web in 1997 from its base in Wellington, New Zealand, the country's first commercial online fashion magazine. In 2003, Lucire became the first fashion industry partner of the UN Environment Programme (www.unep.org). In 2004, it became the first magazine in its sector to extend its brand into a print magazine. In 2005, it became the first web magazine to be licensed as international print editions.
Images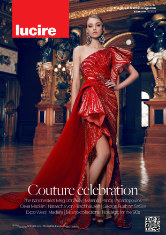 Lucire cover, issue 45, 2022
High-resolution JPEG, 1·25 Mbyte
Photographer credit: Greg Alexander for Mephistopheles Productions
Contact
Jack Yan, Founder and Publisher
Lucire
T 64 4 387-3213
E [email protected]
###
October 12, 2022 No Comments