Lucire awarded most pioneering online fashion magazine in UK's Luxlife Health, Beauty and Wellness Awards
Wellington, June 7 (JY&A Media) As it prepares to celebrate its 25th anniversary, New Zealand fashion magazine Lucire has picked up an award from the UK's Luxlife magazine as part of the latter's Health, Beauty and Wellness Awards for 2022.
'Ultimately, the Health, Beauty and Wellness Awards were launched to determine and recognize the best of these companies and their world-leading products, services and experts. This year's winners are certainly no different,' said Luxlife.
Lucire was named by Luxlife's judges as its 'Most Pioneering Online Fashion Magazine 2022'.
Lucire founder and publisher Jack Yan says, 'It's nice to know that 25 years after we pioneered online fashion magazines, in the plural, in Aotearoa, we are still being recognized around the world for our leadership.'
Not only is Lucire New Zealand's longest-running online fashion magazine, founded in 1997, it is one of the few anywhere in the world that made the jump successfully into print editions. Today, there are two Lucire web editions, in New Zealand and the US, and three print editions, published in both English and French. Over the years, Lucire has been licensed in Romania, Thailand, Qatar, Bahrain, and Saudi Arabia.
'I imagine our unusual status of having started online, then diversifying into print, piqued the interest of Luxlife's judging panel,' says Mr Yan. 'We also pursued a partnership with the United Nations Environment Programme in 2003 and committed to promoting sustainable fashion, long before it was trendy.'
The Kiwi title remains fiercely independent and based in Wellington, where it was founded.
Luxlife says it focuses on luxury, publishing 'only the most cutting edge of products, services, attractions and events that will appeal to our audience.'
To find out more about these prestigious awards, and the dedicated establishments that have been selected for them, visit www.lux-review.com/ where one can view the winners' supplement and full winners' list.
Lucire's entry can be found at www.lux-review.com/winners/lucire/.
About Lucire
Lucire, the global fashion magazine (lucire.com), started on the web in 1997 from its base in Wellington, New Zealand, the country's first commercial online fashion magazine. In 2003, Lucire became the first fashion industry partner of the UN Environment Programme (www.unep.org). In 2004, it became the first magazine in its sector to extend its brand into a print magazine. In 2005, it became the first web magazine to be licensed as international print editions.
About Luxlife
Luxlife Magazine is a premium lifestyle publication which was founded in 2015 by the publishing company AI Global Media Ltd. Distributed to a circulation of 238,000 globally, Luxlife focuses on a range of topics within the luxury lifestyle industry, featuring articles on; fashion, beauty, fine dining, travel, luxury real estate and much more. Within our pages you'll find everything from product news and reviews, to in-depth pieces on trends, features and comment; all designed to inform, entertain and inspire.
Notes to editors
Lucire is a registered trade mark of Jack Yan & Associates and subject to protection in certain jurisdictions. All other trade marks are the properties of their respective owners and are only used in a descriptive fashion without any intention to infringe.
Images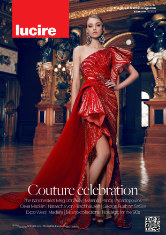 Lucire cover, issue 45, 2022
High-resolution JPEG, 1·25 Mbyte
Photographer credit: Greg Alexander for Mephistopheles Productions
Contact
Jack Yan, Founder and Publisher
Lucire
T 64 4 387-3213
E [email protected]
###