Posts from —
May 2022
Wellington and London, May 30 (JY&A Media) What do you get when you mix the talents of Sweden's king of swimwear and a fashion magazine publisher in New Zealand? Only the sensational new autobiography that hit UK and European shelves last Thursday, with a star-studded launch party this Tuesday night at Stockholm's Nobis Hotel.
Panos: My Life, My Odyssey tells the rags-to-riches story of Panos Papadopoulos, the Greek-born swimwear designer, whose multi-million-dollar label, Panos Emporio, propelled him to the top of his industry. It was in Wellington that Lucire publisher Jack Yan gave shape to the book, from a series of interviews with, and copious notes from, Panos. Even its internal pages were laid out and prepared for print in New Zealand's capital city.
The two men have known each other for over two decades, after Jack first wrote a story about Panos for Lucire. They also share personal stories about emigrating to new countries and finding success; and Jack had a particular understanding of Greek culture, having grown up amongst the Wellington Greek community when his family first arrived in Aotearoa in the 1970s.
'Panos and I always had an innate understanding of each other, probably because we both dared to try new things. We knew that about each other from the start, he with pioneering, colourful, and comfortable swimwear in Sweden, and me with being the first to do digital fonts, and the first to do an online fashion magazine in New Zealand,' says Jack. 'We're both designers who never took a single design course. It wasn't hard to understand another entrepreneur's mindset and to ghost for him, especially someone who became a friend over two decades ago.'
Panos first hatched the idea in 2016 but it took another five years before their schedules aligned.
Published by LID Publishing of London, Panos is a story that will inspire people to keep fighting for their dreams no matter how difficult or impossible they might look.
From poverty, where his parents worked in a foundry, to a life filled with glamour, royalty, and Hollywood stars, Panos Papadopoulos has never had a quiet moment. In his autobiography, Panos tells his story vividly, from his proud roots in Greece, working as a guard in one of Sweden's toughest prisons, to creating one of the most famous fashion labels in Scandinavia. If that wasn't enough of an adventure, he also tells the stories about chairing a football team, how he made a beauty pageant pro-woman, to high drama of being detained in Lebanon, and run-ins with the mafia! Along the way he encounters Victoria Silvstedt, the late Whitney Houston, Jamie Foxx, Alice Cooper, two European kings, and others that make his story intriguing and unique!
Panos explains why he has decided to write his autobiography: 'After I sold my business—my life's work—I wondered what the next stage in my life's journey would look like. I began to get more time to coach others and gave some lectures, and was consistently asked for more. How did I come up with my ideas for marketing? Design? Entrepreneurship? I realized then my journey had inspired others, and what better than writing it all down in a single volume?
'As a creative soul, I also wanted to prove that I could express my knowledge and experiences in an authentic, emotional way. I know I can make a difference. I did with my designs—they touched people.
'I applied the same principle to writing my book, and I wanted to connect to others at a real level. I didn't follow the pattern of other writers, and I did it my way. And I dreamed that this would be one of the most popular autobiographies!'
Victoria Silvstedt, model, actress, presenter and entrepreneur, says of the book: 'An eventful life's journey full of drama, with tragedies and triumphs, all while grounded in principle, family values and human philosophy, told in masterful style. A must-read!'
Images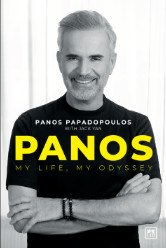 Panos: My Life, My Odyssey cover
High-resolution JPEG, 1·12 Mbyte
About Lucire
Lucire, the global fashion magazine (lucire.com), started on the web in 1997 from its base in Wellington, New Zealand, the country's first commercial online fashion magazine. In 2003, Lucire became the first fashion industry partner of the UN Environment Programme (www.unep.org). In 2004, it became the first magazine in its sector to extend its brand into a print magazine. In 2005, it became the first web magazine to be licensed as international print editions.
Notes to editors
For more information about LID Publishing, please visit www.lidpublishing.com.
Lucire is a registered trade mark of Jack Yan & Associates and subject to protection in certain jurisdictions. All other trade marks are the properties of their respective owners and are only used in a descriptive fashion without any intention to infringe.
Contact
Jack Yan, CEO
Jack Yan & Associates
T 64 4 387-3213
E jack.yan

@

jyanet.com
Teya Ucherdzhieva, Communications Executive
LID Publishing
M 44 7928 666-131
E teya.ucherdzhieva

@

lidbusinessmedia.com
###
May 30, 2022 No Comments