[an error occurred while processing this directive]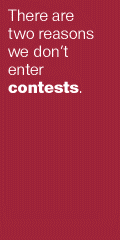 JY&A Consulting
https://jya.co
Detective Marketing
We've referred to it in our latest paper on branding, so what is 'detective marketing' all about?


STEFAN ENGESETH is no ordinary management consultant. A sports coach who hasn't been formally trained (or brainwashed) by a B-school education, Engeseth likes simplifying concepts so they can be shared and understood. It's not at the expense of his credibility: Engeseth has worked with some of Sweden's most important organizations including the Öresund Bridge reference group and has held sessions—he calls it 'jamming'—with J. Walter Thompson, DaimlerChrysler and Statoil. His latest book, Detective Marketing, has a foreword by Jan Cederquist, the founder of Hall & Cederquist which has become part of global ad agency Young & Rubicam.
Detective Marketing is about unlocking one's own creativity, finding those niches and exploiting them in what Engeseth calls a '1+2=4' formula. He admits that he has been criticized for oversimplifying concepts and the worst criticism that can be levelled at the new book is that it reads, at some points, like an inspirational coaching session. (We suggested to him that Detective Marketing be backed up by a cassette talking book.) But how can one make a concept akin to predicting the future complex when those who have exploited unseen niches have simply relied on a gut feel? The book does not explain the feeling but tries to encourage and re-create it.
He was told, 'You have to make it complex or you won't make money,' but, as he told CAP, 'I love to work with complex ideas and turn them into simple points.' Maybe therein lies the genius of Detective Marketing. One picks it up and wonders whether the large Caslon 540 type is too large, or whether the depth is lacking. But it's almost guaranteed, the conceptual pages aside, that opening Detective Marketing at any spread will inspire and reveal some gems.
The book is not about giving easy answers. It encourages one to nurture original thoughts, not apply them directly from a "how-to" book or session. Therefore, an open mind is a prerequisite.
Detective Marketing is not unlike another famous marketing book, Jay Conrad Levinson's Guerrilla Marketing. Levinson, who has been published in CAP many times since 1999, empowered readers. Engeseth desires the same from his self-published title.
He told CAP, 'From history we all have learned that the big fish eats the small ones. But in this case we have the small fish eating the big fish. The big fish will then have to learn to swim better. Small fish can take what's good with being small and move like a big fish. The big can also learn how to move like small ones. I think it's about moving from individual thinking to collective walking.'
The concept behind detective marketing is about removing the boundaries of formal business training, to seek out one's inner senses, breaking barriers and being one with consumers. The first two points do resemble many coaching ideas although Engeseth ably communicates them in his book in applying them to business.
The '1+2=4' formula means that there are two factors (1) and (2) that come together, but there is also a desired, unexpected and synergistic possibility of (4). Conventionally, 1 and 2 will come to 3, but by releasing those boundaries and considering, business jargon aside, how we can be one with consumers, we can arrive at 4.
He also gives other ideas in his book based on existing products and advertising. 'Why couldn't they have …?' borders on a stand-up comedy routine but it is at such fringes that the best ideas arrive. 'Bad-taste jokes are like junk food for me,' said Engeseth. 'I love it.' The humorists may not know it, but their critiques can be preludes to showing how things can be done more simply, more logically. 'The best ideas come to me when I do my jamming live,' Engeseth states.
The "one" concept, which Engeseth capitalizes, is the most important development. He gives examples of Ikea allowing customization and personalization. The Harley-Davidson culture is another example of forming a virtual army between fans and the manufacturer. Even branding should be done with "one": '[it] would be a good way to tie activities [together], etc., but only if branding is compared ot an open door which lets people in. But not if it feels like a handbook that looks like an open door but is not.' Two sentences alone in an interview should already give brand strategists ideas for how to make their worlds "one" but branding remains more of a top-down process. How can it be changed? How can consumers be involved? Such questions are relevant in the 2000s and come quickly to fill the uncertainty of Naomi Klein's postmodern work, No Logo.
Getting ideas from customers for research and development is not a new notion, but Engeseth makes it a great deal more human and accessible. He relies more on front-line retail staff for intelligence-gathering rather than the strategic inputs of R&D managers in business journals. The difficulties that could arise, such as customers claiming ownership on ideas, are not dealt with but Engeseth believes in a greater long-term goal.
'What do we really want from living in our community called the world?' he asked. 'We have an open system called Linux that has been a great, powerful example in what we can perform together. When Linux want to own their customers' developments, they are going to lose the powerful business in open systems.' It is a lesson for Lego and its potential Mindstorms lawsuits that have been popping up in American business magazines this quarter, because if such suits go ahead, the "oneness" disappears.
Therefore, it's not surprising that Engeseth says good things about Napster—while pointing out clearly in his book that he specifically casts aside the legalities in his discussion (he does not advocate, at any point, the loss of intellectual property rights by authors). Napster works because it is about community. If the company stops running Napster, virtual networks of users can replace it. Similarly, Hotline has been a nightmare in our experience. Engeseth explains that the 'organic channels' are responsible.
'Copyright and royalties are the good and bad guys in this development, but to have one per cent in 100 companies can be more fun than having 100 per cent in one company for some people,' he said. If one ever decides to use "one" in intellectual endeavour and R&D, then 'first ask your heart rather than calling someone that knows the law for advice.'
Heart or law? In the world of detective marketing, the former brings customers and business success. The latter brings bills and costs and potentially spoils goodwill or brand equity.
The book can neatly be summed by three words: 'Heart or convention?' Maybe even 'Truth or hypocrisy?' Engeseth gets us trusting ourselves and gives credit to our audiences and consumers, who are far cleverer and deserving of empowerment than we traditionally give them. It will be interesting to see the communities that are built as "one" makes its way into the English-speaking business world, just as the Nordic school of marketing thought did before it. •
Printer-friendly version
[an error occurred while processing this directive]