Koliba, from 1940s style to 3,300 kerning pairs
Designed by Jure Stojan, the new JY Koliba typeface family brings the craftsmanship and structure of Slovenian architecture together with the personal style of hand-lettering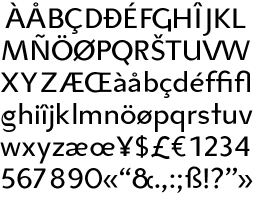 Koliba Roman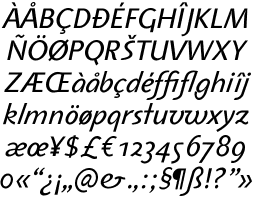 Koliba Italic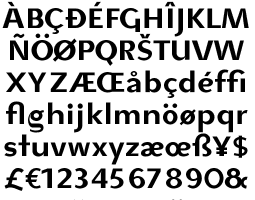 Koliba Bold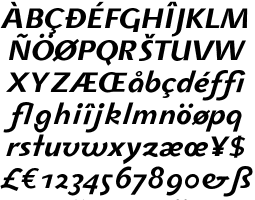 Koliba Bold Italic
'KOLIBA initially started as an experiment in naïve lettering and exaggeration,' says its designer, Jure Stojan. 'The design was inspired by various display alphabets, as showcased on book covers designed in the 1940s by Slovenian architects.'
Unlike Eaglefeather, Tekton and ITC Rennie Mackintosh, based on the hand-lettering of Frank Lloyd Wright, Francis Ching and Charles Rennie Mackintosh respectively, Stojan's Koliba brings a taste of southern Europe to the typographic palette. It is also not crafted after any one architect's lettering, but a style which prevailed in the 1940s. Its characteristics were carefully studied by Stojan for development into Koliba.
'The architectural drawing of that time was meticulously precise and well organized, a tendency also reflected in lettering.' The era did not see postmodern forms, rather a stricter adherence to Vitruvius's definitions of modernist architecture.
The lettering has a certain modernism to it, reflecting the moves that had seen the rise of sans serifs in Germany and the evolution of functional and democratic design taking place in Sweden in the early twentieth century. But there is also classicism in Koliba's design.
The German influence on Slovenia is no surprise, not least due to geographical proximity. After the defeat of the Austro-Hungarian empire after World War I, many Slovenian scholars returned from Germany. Architecture benefited from this, with Ivan Vurnik, who had worked under Otto Wagner in Vienna, and Joze Plecnik forming the architectural department of the University of Ljubljana in 1921.
Plecnik was interested in expressing his architecture with a modernized classical style, which impacted on the university.
This newfound romanticism with Slavic architecture was shared with a move toward functionalism in the between-the-wars' period. Students at the University expecting Plecnik to espouse modernism—and finding that he now favoured classicism—went to the Bauhaus in Weimar and other institutions. August Cernigoj, one of the alumni, is credited with bringing back the modernist, functionalist ideals. Others studied in Vienna under Peter Behrens.
Even after World War II, with the advent of the Socialistic Federal Republic of Yugoslavia, architecture continued with a modernist–functionalist ideal.
Thus, certain letters show a tension between (neo-)modernism and fussier, classical detailing: witness the g in both roman and italic, one of the most difficult glyphs to create and in Koliba's case, one of the most joyful to contemplate.
Like many with an appreciation of the typographic form, Slovenian architects eschewed the lettering of commercially available stencils and developed their own typefaces.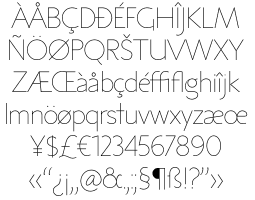 Koliba Ultra Light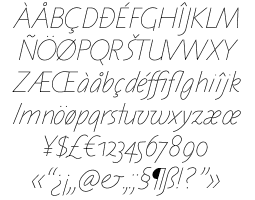 Koliba Ultra Light Italic

'The letters were geometrically constructed in two weights; today we would call them Thin and Bold,' says Stojan.
'The thin letters were mostly used in titling, whereas the more complicated bolder forms signified sections in construction plans.'
Even today, two weights can be seen in plans where hand-lettering has been used. Expectedly, the styles are personal to their scribes.
As with graphic and fashion design, 1940s Slovenian architecture could be seen—at least from the viewpoint of a writer in the 2000s—as an adaptation of a Zeitgeist, or the mood of the times. It is something that cannot be readily said today, when tastes have become more evidently pluralistic, even though countries in the developed world are growing closer technologically.
Would it then be fair to place a postmodern label on Koliba, with the reference to classicism, particularly in the itaic, and its intent for twenty-first-century computer usage? Its varying angles, one for uppercase and a second for lowercase, are reminiscent of the model serif italic forms of centuries past.1 The tag may not be unwarranted.
If it were not for postmodernism we might not have Koliba, a typeface family that does not really separate past and present, instead treating all moments of time as relevant in a modern typographic dialogue.
Therefore, Stojan rightly insists that Koliba is not a revival. The letters are simply 'constructed in the manner of the '40s, using architectural templates featuring ellipses.' This is particularly evident in that distinctive letter, g, in both roman and italic, in p and q, and equally so in all the numerals. The straight-edge characters show a rigid design: A, K, M, N, V, W and Y have a strict, unbending feel to them.
The designs were completed on computer by both Stojan in Slovenia and JY&A staff, including founder Jack Yan, in New Zealand.
With type design moving into a more personal and "crafted" realm in the 2000s after a decade of chaos, Koliba is very much a creation of, by and for its time. It is regimented and structured technically yet retains a friendly, warm, personal feel.
The relatively wide body of the book and bold weights suggest excellent use for text. Koliba Ultra Light, reflecting the titling typeface made by an architect's pen, is narrower and true to hand-lettering habits (the larger the letter, the narrower it is, and the thinner the strokes proportionally).
The typefaces will find favour with designers who seek a warm yet disciplined style. Koliba will sell internationally through JY&A Fonts' network of distributors, on- and offline.

Visit http://jyanet.com/fonts/font136.htm for more details.

This article was originally written for the print edition of CAP.