Jack Yan talks to Lewis Tsalis and Damien Mair, the founders of Australia's newest and most innovative typefoundry
'W H E N I R E T U R N E D to Australia in late 1995, after living in the US for six years, I was surprised to discover that there were very few type designers here,' said Lewis Tsalis, co-founder of Australia's Type[A] Digital Foundry.
Tsalis was already well known as a type and graphic designer from his work in the United States, where he had won numerous awards, including the Best of Show from the Advertising Club of Delaware. His typefaces have appeared in Playboy and Mondo 2000, not to mention CD covers, outdoor advertising and television advertisements. Knowing the possibilities of type, it came as a shock to see Australian designers generally importing, rather than producing, fonts for projects.
'Stephen Banham, from Letterbox in Melbourne, was the first type designer I came across who was making a difference in the area.' Banham had published Qwerty, a sought-after six-booklet series on Australian type design. Only 200 to 250 copies of each edition of Qwerty ever produced, and Tsalis felt that it was time for another attempt at promoting Australian typefaces.
Australia has no shortage of type designers. Many graphic designers, like Garry Emery, Danny Burke and Russell Bean, have turned their attention to type. But at the time Australia lacked a foundry which has positioned itself as a national player, in the same way British Airways presents itself as a national carrier. Independent designers either released their type through limited promotion or through foreign typefoundries like Agfa and T-26. Tsalis' own designs had found their way into the T-26 library.
Tsalis was working on the idea for around six months when he stumbled across a mailing from T-26. In it, another Australian designer's name appeared: that of Damien Mair. Mair was also a designer of note: as a student he had won numerous awards and a scholarship which enabled him to work at Adobe Systems in the US. More recently, he founded Fusion Design Consultants, an award-winning interactive studio. The two then started corresponding and their goal emerged. In Mair's words: 'We started corresponding enthusiastically about the type scene in Australia growing by 100 per cent.'
Says Tsalis, 'The direction we chose was to form a partnership and establish Type[A] Digital Foundry as a commercial venture.' The new foundry was then formed without either designer having ever physically met. Even the catalogues and website were produced without "real" face-to-face contact.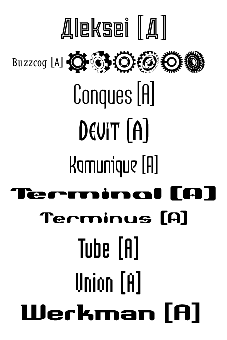 The innovative display typefaces from Type[A]'s Lewis Tsalis and Damien Mair
T H E T Y P E [A] L I B R A R Y is a fascinating collection of distinctive typefaces. Some have appeared as earlier editions at T-26 while others are foundry exclusives. Mair's new Komunique [A] family shows finesse and toughness while remaining highly legible. Tsalis's Aleksei [A] combines its Soviet avant-garde inspiration with Latin alphabet forms. This is a library with varied and highly original styles.
Tsalis's typeface designs show a consistent theme. 'My graphic design work is quite geometric, ordered and precise. I carry that aesthetic through to my typeface designs.' His Tube [A], Union [A] and Conques [A] are perfect examples of this philosophy. They bear the designer's signature but have their own unique flavours.
In this light Mair's work seems to be a perfect complement to Tsalis's typefaces. Mair was a typophile from a young age - 'Doodling custom type intro pages for projects in primary and high school always seemed more fun than the content within' - and had carried this love of type through to his university thesis on the democratization of type design. Terminal was the result of the practical component of this study.
'I was inspired by the punk attitude that you could "do it yourself",' says Mair, having found inspiration from Neville Brody and Emigre. 'I set myself a loose brief to keep things on track throughout the design process. For example, Terminal [A] was designed to pick up on the visual codes of techno graphics finding influence from the design of computer circuit boards, in combination with European subway map structures.'
Neither designer is interested in filling gaps in the market-place, but instead prefer to express their personal experiences as typefaces. Tsalis's typefaces 'were inspired from a single specific event.' He continues, 'Conques [A] was inspired by a tenth-century cathedral in a mediaeval village I visited in southern France.' His Devit [A] was inspired by a Corgi Batmobile.
Mair's approach is similar: 'My typefaces are really reflections of projects I am working on at the time fused with a myriad of external influences and experiences.'
Both designers will not be drawn on what their favourites are in the Type[A] range. 'Ask a parent to try and choose their favourite child,' said Tsalis.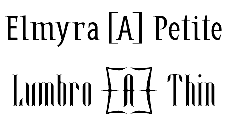 Type[A] is considering launching its corporate typefaces, Elmyra [A] and Lumbro [A]
A S T O T H E F U T U R E, Tsalis and Mair will continue their strategy of offering and promoting Australasian typefaces. There is an additional goal: 'to design typefaces that will wipe the smile off your other 'faces. If we can increase the tension within your fonts folder, then our job is done,' said Tsalis lightheartedly.
Both designers have more typefaces in the works. According to Tsalis, there is one typeface 'which we are extremely excited about'. All will be revealed at the Type[A] site, http://www.typea.com.au, over the coming months. Whatever form the new typeface takes, it will be a welcome addition to the Australian typographic palette and the Australasian type scene as a whole.