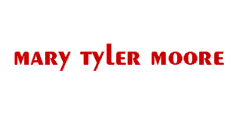 TMTMS Episode Guide acknowledgements
I'd like to thank all those without whom this Episode Guide could not be completed. First and foremost, Jim Pattison for compiling the first Mary Tyler Moore episode guide on the internet, which gave me the air dates, order and Emmys won by the show. And, all the members of the Mary & Rhoda list who contributed to the Guide by answering some of my questions. Special thanks are due to Stacey Emerson whose contribution helped me fill some gaps in my memory about Season 1 episodes, and to Richard Mains, whose comprehensive and pioneering site, sadly no longer online, provided additional information.
Preview for The Mary Tyler Moore Show
The folks at TV Party have a clip from TMTMS which fans need to view: there's a slightly different theme song (listen very carefully to the lyrics and the tempo), and a very different office for Lou Grant and the famous interview scene. RealVideo required. Click here for the clip.
Opening title
Brief notes have been made of the opening titles for each year. When you consider what makes a show, it's hard to think of The Mary Tyler Moore Show without Mary throwing her hat in the air at the Nicollet Mall in Minneapolis, or Sonny Curtis's song, Love Is All Around. Yet title designers don't get royalties for their work like songwriters. In this episode guide, I note the changes in the visual titles, because they, like the arrangements to the title song, mirrored the changing style of the 1970s and deserve recognition.
Semi-regular characters
Various episode guides have difficulty dealing with semi-regular cast members, and this one is no different. Georgia Engel, who appeared in some Season 3 episodes, is listed with other guest stars for that year, as is Betty White for Season 4. Ms White is credited as a 'guest star' in her first season's episodes. (Some "guest stars", like John Amos and Priscilla Morrill, appear more frequently in the credits.)
Jack Yan Publisher


The Mary Tyler Moore Show
168 episodes between September 1970 and March 1977, listed at this site:
Season 1 (1970–1)
Season 2 (1971–2)
Season 3 (1972–3)
Season 4 (1973–4)
Season 5 (1974–5)
Season 6 (1975–6)
Season 7 (1976–7)
Original air dates given in this guide are for WCBS-TV, New York
Rhoda episode guide
From the official Valerie Harper site
The Dick van Dyke Show
An episode list as opposed to a guide, but it is complete and the site has useful links to other TDVDS stops online