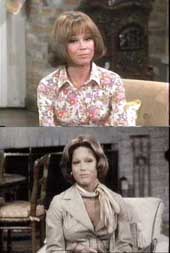 Over the years, the set designers reused and reupholstered Mary's furnishings, as would have been done in real life. The chair shown served TMTMS from first episode to last.

Return to Features page
Return to home page
Join the list
---
Shopping 119 North Weatherly
Some of Mary Richards' favourite things can be yours, if you know where to look. Here's a guide to buying the items that can give your life that TMTMS touch.
Art
The Ben Shahn poster seen in the first season is available through www.allposters.com. Search on 'Ben Shahn' and look in the selections shown for the title January 18th to February 12th.
The Toulouse-Lautrec poster seen in later seasons is another Allposters selection. Search on 'Toulouse-Lautrec' and look in the selections shown for the title Jane Avril.

Furnishings
Pressed-oak dining chairs like Mary had are fashionable again. Currently, many furniture stores carry them from a wide selection of manufacturers in all price ranges. To get the look inexpensively, you can get very good versions from Big Lots.
Baker's racks are another easy find; check with nearly any furniture store. They also turn up in thrift stores regularly, but used ones are often rusted. A little spray paint will fix the problem.
Pier One is the place to get a wicker chest like the one Mary used as a coffee table, but different versions are offered from time to time. If you don't find one similar to Mary's right away, be patient and keep going back.
Armoires cost a fortune new, but companies specializing in hotel salvage sales often have them at reasonable prices. As a bonus, armoires made for the hotel business usually are fitted with sliding, swivelling shelves for TV sets.
Accessories
The little space-age lamp beside the wicker chair seen in front of the window in early seasons is known as a Laurel lamp. These lamps are no longer made, but they turn up on eBay. Search on 'Laurel lamp'. Be prepared to pay big bucks for one in good condition; they're highly sought-after by collectors of 1960s modernism.
Mary's Samsonite luggage can also be found on eBay. If your find arrives in scruffy condition, a trip to your local luggage shop will work miracles. Samsonite still supplies parts for its 1960s–1970s luggage, so no problem there.
The hourglass-shaped glass coffeemaker Mary uses in some episodes is called a Chemex pot. These are still available in better kitchenware shops, and on eBay.
Mary's cute little Sony portable TV turns up on eBay all the time. Search on 'Sony BW' and you'll find one within weeks. Hold out for one in working condition; repairs on vintage electronics are expensive.
That powder-blue phone Mary had is something else that eBay can help you own. The search terms to use are 'blue phone' and 'blue telephone'.
Metlox Potteries made the pumpkin-shaped cookie jar, and even though the company is out of business, the cookie jar is another item easily located online by searching eBay for 'Metlox pumpkin'.
Antique fairs and malls sometimes have salvaged architectural lettering, so you can find your own initial to hang on your wall. To this day, TMTMS makes "M" the most sought-after letter, so be prepared to pay well for a nice one resembling the one on the show.

Sources
The Mary Tyler Moore Show web site, www.mtmshow.com.
Allen and Brown: Love Is All Around: the Making of the Mary Tyler Moore Show. New York: Delta Division of Dell Publishing 1989.
The Internet Movie Database, www.imdb.com.
Bryars: The Real Mary Tyler Moore. New York: Pinnacle Books 1976.
About the author
Sandy McLendon is a freelance writer whose career includes a real-life reminder of The Mary Tyler Moore Show. For six years, he was a cooking teacher like Sue Ann Nivens; he can sling Veal Prince Orloff with the best of them. Magazines in which his work has appeared include Modernism and Old House Interiors. He lives in Atlanta.