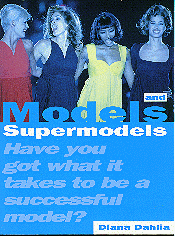 IANA DAHLIA'S Models and Supermodels

Have You Got What It Takes to Be a Successful Model? is a welcome title aimed at the aspiring model. It takes an honest look at what it takes to be a model or a supermodel. Former model turned television producer Diana Dahlia relays her experience of the industry in a clear and easily understood fashion, while the book itself is well complemented by photographs of models and their everyday work. There is also information on having a career plan, nutrition and exercise, and starting out.
The book goes beyond catwalk modelling: it details editorial, house, part and character modelling as alternatives, and gives useful advice on dealing with agencies, schedules and photographers. Models and Supermodels is, in essence, a book which lives up to and goes beyond its claim. It succeeds in being a practical and structured guide to the industry. All those planning to enter the modelling profession would do well to have this title on their bookshelves.
Models and Supermodels

Have You Got What It Takes to Be a Successful Model?, by Diana Dahlia
Paperback, 1997
Order this title from amazon.com
Price $22.95
Available soon

OGUE'S CAMILLA NICKERSON and Neville Wakefield have come up with a lavishly illustrated book dealing with contemporary fashion photography. Both industry photographers and "art" photographers who shock with their work are covered, showcasing the range of styles to which we are exposed in the 1990s.
Fashion: Photography of the 'Nineties, by Camilla Nickerson and Neville Wakefield
Paperback, 1998
Order this title from amazon.com
Price $23.96

a saving of $5.99 (20 per cent)
Ships after release by publisher
Can't find what you need? Search for other books at Amazon.com and Lucire here:

HIS second edition of the year's most enduring photographs from the world of fashion is better than ever: 200 pages and 260 colour photographs from photographers like Helmut Newton, Mario Testino and Peter Lindbergh. This is the coffee-table book of the year, worth a browse every time you pick it up.
Fashion Images De Mode No.2, edited by Lisa Lovatt-Smith, Patrick Remy and Jeanloup Sieff
Hardcover, 1997
Purchase this title from amazon.com
Price $20.97

a saving of $8.98 (30 per cent)
HILLIP BLOCH'S new book, Elements of Style calls on the author's knowledge of (and access to) Hollywood. Given 1997's many books and magazines which have tapped successfully into the glamour of Tinseltown, Elements of Style is bound to do well. Part of the proceeds to breast cancer and AIDS charities.
Elements of Style, edited by Phillip Bloch
Hardcover, 1997
Purchase this title from amazon.com
Price $17.59

a saving of $4.40 (20 per cent)