Ikea will move into fashion next, predicts Swedish author Stefan Engeseth
When fashion becomes cyclical, Ikea could be the company that could come in and break the mould
Stockholm and Wellington, October 28 (JY&A Media) Swedish author and business thinker Stefan Engeseth predicts that Ikea's next move will be into the world of fashion.
Mr Engeseth says that Ikea's expertise lends itself easily to the world of apparel. 'Fashion is an expression of how to package and sell design,' he says.
He believes that fashion is in a repetitive cycle, stuck in history and needing renewal.
Ikea could offer both complete apparel items and composite parts that customers could assemble themselves, says Mr Engeseth. The parts could be "tailored" at home in inventive ways without the need for complex sewing.
'Emotionally, this connects people to how life was in the beginning,' he says. 'Customers can personalize and "hack" the designs.'
Jack Yan, publisher of the fashion magazine Lucire, and a branding expert in his own right, says Mr Engeseth's ideas have a great deal of merit.
'This taps in to its existing fan base, and just as importantly, Ikea can make full use of its channels, outmanœuvring many existing fashion labels,' says Mr Yan. 'Ikea has an international retail base and it has distribution down to a fine art.'
For completed clothing, Mr Engeseth says that Ikea could offer Unisex dressing, without the divisions of male and female, but as an 'Ikea member'.
He sees Ikea clothing as being high-tech and low-cost, harder-wearing than the apparel found in mass-market retailers.
'We're already seeing some shoppers go to outdoor and living stores to buy longer-lasting clothing. Ikea already sells reusable Kr 4 bags that are good and cheap; their clothes could be equally practical, as strong as work clothes,' he says.
'You could even extend this hard-wearing philosophy into wedding gowns—after all, there are already some people opting to get married in Ikea stores.'
Mr Engeseth says Ikea could offer the clothing range to its fans first, so they have a "uniform", much like football teams.
'There are 57 million Ikea "family members" already, so let them be the only ones who can buy the clothes first. This would be the longest catwalk ever.'
He goes further, saying that those wearing Ikea clothing could qualify for greater discounts at the point of sale. 'Not only will this build their tribe, it will "dress it up" to become a worldwide community.'
Fans who have furnished their homes could host 'Ikea days', where dressed-up fans could invite their friends to their homes, which become pop-up fan showrooms. 'That could give Ikea millions of stores, and greater exposure to how homes can be designed. That would bring in sales and the company could treble its profits,' he says.
Images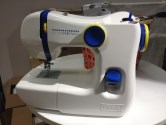 Ikea sewing machine
Medium-resolution JPEG, 523 kbyte


Stefan Engeseth
www.detectivemarketing.com
JPEG, 1·26 Mbyte
Photographer credit: Thomas Svensson
About Stefan Engeseth, CEO of Detective Marketing
Author, consultant, speaker and guest professor, Stefan Engeseth's ideas range from innovative and future-oriented to bordering on far-fetched. Yet, they all build on the universal truth that without innovation and visions, companies will not grow in today's highly competitive business world. The question is, how far are you prepared to go?
Over the years, Stefan Engeseth has worked as a consultant with internationally companies and Fortune 500 corporations. Often he is described as on of the world's leading experts and speakers in his fields (well he like to say its only common sense).
His lectures have become extremely popular because they are stimulating yet easy to take in and use. He has held over 500 lectures and workshops internationally at corporations and academic institutions. He has also taken part in the Öresund Consulate's reference group on the Öresund bridge between Sweden and Denmark one of the largest projects of its kind in Europe. He write articles for international business magazines.
About Jack Yan
Jack Yan founded Jack Yan & Associates (http://jya.net). Among his company's interests are business consulting, software and media, including the fashion magazine brand Lucire. He has authored or contributed to numerous books, including Beyond Branding, Typography and Branding and Nation Branding: Country Concepts and Cases. He ran for Mayor of Wellington in 2010 and 2013. His personal site is at http://jackyan.com.
Contacts
Stefan Engeseth, CEO
Detective Marketing
T 46 (0)704 44-33-54
E stefan.e

@

detectivemarketing.com
Jack Yan, CEO
Jack Yan & Associates
T 64 4 387-3213, F 64 4 387-3213
E jack.yan

@

jyanet.com
###