Lucire's modelling competition gets social media boost through Promoki
Wellington, May 17 (JY&A Media) With two weeks left to go, Promoki's 'Made to Model' contest for international fashion magazine Lucire is the Wellington start-up's most engaged competition, which can be found at http://lucire.promoki.com.
Announced in late April, Promoki launched a modelling photo contest with the magazine, where the winner is the party with the most likes and shares.
Promoki is one of the hottest start-ups and a participant in Wellington's Lightning Lab.
Lucire publisher Jack Yan says that it was natural that his magazine (at http://lucire.com), which was the first commercial online fashion publication in New Zealand 16 years ago, would work jointly with another innovative firm.
In the weeks so far, Mr Yan says he is delighted with the results.
'Promoki's challenge is very of-the-moment and harnesses the power of social media to decide who the winner is. It's innovative, transparent, and very powerful for participating brands,' he says.
'We've been thrilled to see more people engaging with Lucire on Facebook and Twitter and there's a good amount of netizens out there excited about the competition.'
Promoki CEO Brinkley Warren says, 'It's been really exciting to see the big social media spike for Lucire. Tapping into the power of crowd creativity is good for marketing, and it's a perfect fit for the fashion world.'
The first prize sees the winning team profiled in a future issue of Lucire. If the winner is a New Zealand model, they will get a shoot led by the magazine's fashion editor Sopheak Seng.
Silkbody, Smashbox and Label M have also provided prizes. Silkbody's prize can be redeemed internationally, while Smashbox and Label M's prizes are for New Zealand only.
The competition concludes on May 31.
Promoki was one of the start-ups presenting at Lightning Lab's Demo Day on May 15, and was introduced by Mr Yan.
Images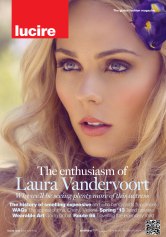 Lucire cover, issue 29
High-resolution JPEG, 1·26 Mbyte
Modelled by Laura Vandervoort
Photographer credit: Courtney Dailey


Lucire publisher Jack Yan and Lucire fashion editor Sopheak Seng with Lucire issue 28 (2012)
High resolution JPEG, 3·5 Mbyte
Photographed by Louise Hatton


Lucire logo (for print use)
Adobe Illustrator 9·0 EPS, 75 kbyte
Rename filename suffix to .eps after downloading
Other images available at http://jyanet.com/press/photo.htm. A username and password are required.
About Promoki
Promoki.com hosts brand-sponsored photo and video contests and puts the outcomes into people's social media feeds so that advertising becomes less interruptive, more effective, and more inspiring.
About Lucire
Lucire, the global fashion magazine (www.lucire.com), started on the web in 1997. In October 2004, it became the first magazine in its sector to extend its brand into a print magazine. By May 2005, it became the first web magazine to spawn international print editions. Lucire became the first fashion industry partner of the United Nations Environment Programme (UNEP, www.unep.org). It is headquartered in Wellington, New Zealand and published by Lucire LLC. For print edition information, see <http://www.lucire.net>.
About JY&A Media
JY&A Media, part of Jack Yan & Associates, publishes and licenses magazines, in print and on the web, and produces other interactive content. Best known among its titles is Lucire, the fashion magazine which launched online in 1997 and spawned international print editions in 2004. An internet pioneer, it has been publishing and creating online titles since the early 1990s. More on the company can be found at http://jyanet.com/media.
Notes to editors
Lucire is a registered trade mark of Jack Yan & Associates and subject to protection in certain jurisdictions. All other trade marks are the properties of their respective owners and are only used in a descriptive fashion without any intention to infringe.
Contacts
Jack Yan, Publisher
Lucire
T 64 4 387-3213, F 64 4 387-3213
E jack.yan

@

jyanet.com
Brinkley Warren, CEO
Promoki
T 64 21 160 4151
E brinkley

@

promoki.com
Leana Keen, Associate Editor, UK
Lucire
E leana.keen

@

lucire.com
Simone Knol
Lucire
C 44 7876 701-505
E simone.knol

@

lucire.com
###