Autocade enters into new collaboration as it celebrates 1 million page view milestone
Wellington and London, April 8 (JY&A Media) Autocade, the international car cyclopædia (http://autocade.net), reached its 1,000,000-page-view milestone this week, despite having had little promotion. It also announces a collaboration today with Keith Adams's successful AROnline (http://aronline.co.uk), the best known online resource on British motoring history.
Jack Yan, who started Autocade, intended it to be a freely available and international resource on postwar automotive models.
Each entry in Autocade—of which there are now 1,400—features one vehicle type, information on body styles, production numbers and engine types, and a single paragraph summarizing the vehicle.
The site was in beta for nearly two years till it reached 1,000 entries in December 2009, when Mr Yan removed the 'beta' tag.
Autocade is largely the work of one person, though with the collaboration with AROnline announced today, Mr Yan expects that to change.
'Keith Adams's AROnline site has been one of my favourites since I found it in the mid-1990s. It's the premier resource on British motoring history and offers unequalled knowledge on, in particular, models relating to what was once known as the British Motor Corporation,' he says.
'I cannot think of a better collaborator than Keith Adams.'
Mr Adams is assistant editor of Octane magazine in the UK.
'Autocade is the world's finest online and free online car cyclopædia,' says Mr Adams.
'I will be contributing to the project, adding cars along the way—hopefully helping Jack achieve his dream of building the biggest and best car database on the internet.'
The million-page milestone, says Mr Yan, is due to the site being useful to netizens, who discovered its information while searching.
Autocade is referred to in Wikipedia by its editors on certain niche models.
Although started in New Zealand, British interest in Autocade has arguably been higher.
Its first round of improvements was overseen by Peter Jobes, an English web developer and author.
Mr Yan started Autocade as a hobby website in 2008. He also founded Lucire (http://lucire.com) in 1997, one of the world's longest-running online fashion magazines, with international print editions.
Images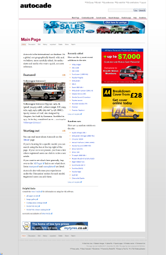 Autocade website cover (full length), December 21, 2009
PNG, 509 kbyte
Other images available at http://jyanet.com/press/photo.htm. A username and password are required.
About JY&A Media
JY&A Media, part of Jack Yan & Associates, publishes and licenses magazines, in print and on the web, and produces interactive television programming. Best known among its titles is Lucire, the fashion magazine which launched online in 1997 and spawned international print editions in 2004. An internet pioneer, it has been publishing and creating online titles since the early 1990s. More on the company can be found at http://jyanet.com/media.
Notes to editors
Lucire is a registered trade mark of Jack Yan & Associates and subject to protection in certain jurisdictions. All other trade marks are the properties of their respective owners and are only used in a descriptive fashion without any intention to infringe.
###