International branding philosopher Stanley Moss to visit New Zealand
Wellington, December 15 (JY&A Media) Stanley Moss, the CEO of the Medinge Group, the Swedish branding think-tank, will make his first visit to New Zealand between December 26, 2010 and January 6, 2011.
Mr Moss is an internationally renowned speaker, author, artist and branding philosopher, and is one of the driving forces behind the established Brands with a Conscience awards presented in Paris each year.
This is his first visit to New Zealand, where he will take in Auckland, Tauranga, Napier and Wellington.
He typically divides his time between Europe and Southern California, where his business interests are centred. A disciple of designers Armin Hofmann, Fritz Gottschalk and Paul Rand, he was based in NYC for 25 years, where he created brand solutions for clients like Citibank, Coca-Cola, the French American Chamber of Commerce, Drexel Burnham Lambert, UC Berkeley, Intel, The New York Times and the American Hotel & Motel Association.
Today his practice centres on the expression of humanistic values in the brand discipline, for clients like Philips, Honeywell, and the City of London.
He is founder and principal of Diganzi, a brand consultancy.
In February 2006 he was named CEO of the Medinge Group, the Stockholm-based think-tank on international branding. He also worked as a fine artist, sponsored by Absolut and Johnnie Walker Black Label, and exhibited landscapes in the US State Department Art in Embassies programme.
He had a long association with the New York art journal BOMB as director and designer. His New Wave Cookbook is in the permanent collection of the Museum of Modern Art (MoMA) in New York. He acts as Travel Editor for Lucire, a New Zealand fashion magazine.
Mr Moss finds time to serve on the Boards of the Rocket Mavericks Foundation and the Advisory Board of Proton Business Schools of Indore and Ahmedabad.
Interviews with Mr Moss may be arranged.
Schedule
Auckland
Boxing Day through December 28
Tauranga
December 29
Wairarapa
December 30
Wellington
December 31–January 3, January 5–6
Napier
January 3–4
Images



Stanley Moss at the Medinge Group Paris conference (2010)
www.diganzi.com
medinge.org
JPEG, 83 kbyte
Photographer credit: Cat Soubbotnik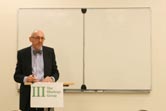 The Medinge Group 2009 Brands with a Conscience ceremony, Paris
February 5, 2009
Stanley Moss
JPEG, 967 kbyte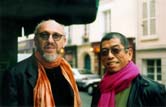 Stanley Moss, CEO, the Medinge Group and travel editor of Lucire, photographed with Los Angeles-based fashion designer Tadashi Shoji in Paris
JPEG, 2,163 kbyte
Photographer credit: Jack Yan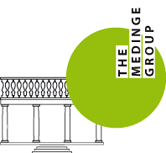 The Medinge Group logo
EPS, 519 kbyte
About the Medinge Group
Founded in 2002, the Medinge Group first published a brand manifesto of eight statements encapsulating a vision of healthy brands for the future. In 2003, the group authored a collection of essays entitled Beyond Branding, which explored the ways in which brands could add value within alternative business and social models. In 2004, the group established the annual Brands with a Conscience list to recognize organizations who epitomize humanistic behaviour; in 2006, Medinge added a special category of recognition named in honour of its late colleague Colin Morley, which acknowledges excellence by an NGO, in keeping with Colin's humanistic vision. The Medinge Group maintains an online, automated speakers' and experts' bureau accessible through its website, medinge.org. In 2007 Medinge launched an online resource, The Journal of the Medinge Group, a digital anthology of papers and articles written by Medinge members.
Contacts
Jack Yan
CEO, Jack Yan & Associates
Director, the Medinge Group
T 64 4 387-3213
F 64 4 387-3213
E jack.yan

@

jyanet.com
Stanley Moss
CEO, the Medinge Group
T 1 562 219-2111
E diganzi

@

gmail.com