JY&A Consulting
http://jya.co
MG Rover survives, forms alliances—just as we said it would
But what is the next step and will the MG and Rover stand up to the growth?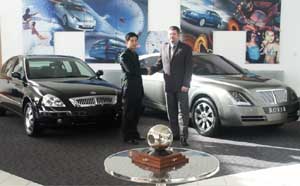 Above: Brian Sun of China Brilliance and Kevin Howe of MG Rover reach an agreement. Behind them are a Zhonghua sedan, possibly the first all-Chinese four-passenger car and the Rover TCV concept, which will form the 45 replacement
WE were pretty much alone in 1999 when BMW sold Rover for £10. While everyone was saying the company didn't have a chance, we were perhaps the only publication, after analysis of Rover's brands and management, that agreed with the hopefulness of John Towers et al inside the company. With last week's launch of the 500 bhp MG SV at the British Motor Show at Birmingham, the press is changing its tune. So where is Rover now?
Almost everyone in the media still agrees that Rover is struggling for survival but the story captures the imagination of many observers. Here is, again, old England, with its backs to the wall, getting ready to fight back. Peter Stevens may have created one ugly beast in the form of the MG SV (née de Tomaso Mangusta), but at the same time his Rover TCV concept has both respect to the heritage and the innovation that we suggested Rover incorporate three years ago.
In ensuing years, Rover—or more accurately now MG Rover—has formed partnerships with, most notably, the Red Chinese manufacturer China Brilliance (CBA), a company that has been emerging from the Communist nation with some truly well-styled automobiles. CBA's minivan has an airy Italianate look that places it firmly in the mid-1990s, while there's a large Giugiaro-designed Zhonghua sedan that could win some hearts in Europe, if only the Chinese could get the quality right.
There have been talks with Indian automaker Tata, one of the fastest-growing on the subcontinent in brand terms. Like CBA, Tata has more style than its compatriots, bringing out its IDEA-designed Indica supermini. MG Rover should move into Daewoo's old Polish plant (once talks over the Korean company's debts are concluded), from where Matiz, Lanos and Nubira models were made, not to mention the geriatric FSO Polonez from the Eastern Bloc days. And the great coup, at least press-wise, was MG Rover's acquisition of Italian specialist manufacturer Qvale, from where the MG SV has come.
Rover itself has a tempting piece of kit: BMW's legacy of the Rover 75. Creating a small car to replace the 1991 Honda Civic-based Rover 45 will involve cutting down the 75 platform and launching the new model for 2004, building it in the UK, Poland and China.
The moves make some sense. Since Rover didn't hear from folks like Peugeot—suggested by one of our readers as a possible partner—it decided to venture on its own. Alliances are the life-blood of the 21st century business. Thinking global is another necessity, and it is a fallacy to think that only large companies may take this route. If Rover can pioneer new marketing methods, e.g. getting online word-of-mouth started because of some innovation with its automobiles, and drive the entire venture through a strong brand philosophy, then it will work. There are plenty of organizations in the post-dot-com era that have survived the bust and remained global, using very little funds to do so.
Perhaps in a repeat of the 1970s searches that led to Project Bounty, the alliance with Honda, Rover found other companies that needed cooperation to survive.
But it's not the late 1970s any more. Rover may have given the knowledge for Honda to operate keenly in the European Union with the assembly of a modified Honda Ballade in 1981, but it's not as difficult for a mid-sized automaker to find the capital and enter the region. It's been done so many times that textbooks could be written about it. Therefore, the partners aren't glamorous ones. Tata is really only making a decent, original passenger car for the first time, as is China Brilliance. This is a far cry from ever-expanding Honda, which had, by then, laid down plans for the second-generation Civic and was receiving acclaim for its European-quality Accord.
However, Rover can offer CBA the sort of production processes and quality benchmarking that it needs, having benefited from the BMW years. This could make CBA the first exporting Chinese automaker, putting out cars that exceed the competition's horrid quality seen on the Volkswagen Santana and other locally made fare. R&D can be internationalized, which gives CBA another huge advantage.
What Rover can also offer are two brands with strengthening ethos behind them. The new MG Rover has gone more extreme than we had ever tipped in 1999 with the way-out MGs, including returning to Le Mans and concentrating on competition. The SV could enter the American market, heralding the company's return there, but it's going to have a tough time since the Italian-made sports car is so far from the brand image left behind by those fond of the TF and MGB. We do not believe there is a precedent for such a market niche shift, the only exception, strangely, being the sale of the MGB-based R into Japan—and the Japanese market is hardly typical, with plenty of retro-inclined Anglophiles snapping up those and the old Mini.
Rover itself is getting back to a more luxurious edge, recalling the image created by the P5. Rover's long-wheelbase 75, for example, might be an English idea of the Skoda Superb concept (take a regular mid-sized car and stretch the wheelbase) but it shows that the company is trying to reach for more exclusive markets. Even though the 45 might be a latter-day Allegro—outclassed and criticized by one Australian magazine as being a poor example of British humour—Rover has kept its price down and equipped it better than a lot of its rivals. Innovation coupled with luxury—it's a proposition that Audi communicates but with a different voice.
Right now, we have to question how strongly this is a brand-led recovery. As any automaker will tell you, a product-led recovery does not always work. Disparate products do not reinforce one another in a range, lessening brand loyalty. But how much does the internal team at MG Rover understand this need for "innovation at every angle"?
There have been hints that the product and the brand are well aligned as far as Rover is concerned though no sign of any cross-media branding strategy. Stevens' TCV concept is a start: future Rovers will all share this idea of innovation, beginning with the look. If Rover can stay faithful to TCV with the new 45 (perhaps calling it 55?) and cross several segments, then it has the potential to do what the Mini once did: be classless. The 75 will be safe for the time being, and the Zhonghua could even, with its grilled nose, be a future Rover. The CBA minivan must be replaced at some point, so why not do so with Rover's help? Meanwhile, CBA will sell into the territories that Rover does not, namely Asia and Africa, while the two companies might go it together in the United States. Product-wise, that is all fine, but Rover's marketing leaves something to be desired. While the advertisements are beautifully executed for both brands, what are they really saying? What is the MG attitude? The Rover attitude? It is another hint that branding could be better coordinated and that MG Rover must begin thinking about it now, or lose a competitive advantage.
The US question is intriguing and likely to be the most important for medium-term profits. CBA lacks a brand and Rover has, in the US market, a tarnished one. Rover's SD1 pretty much destroyed what equity was left, so much so that when the mid-1980s Project XX sedan was launched there, it had to take the Sterling moniker—and failed again. But there is MG. Can MG be sedans and hatchbacks in the US market? The former Rover Group had tried it before, when it sold the last Montego sedans and station wagons in New Zealand as the MG 2 litre, and even though the cars have since failed to retain any value, it is possible. Or can it enter the United States on the back of the BMW Mini as 'The inventor of the original Mini', thereby strengthening the innovation angle?
There are dangers to such a branding method in a globalizing world. First, MG is not known for sedans. Second, travelling Americans and those likely to have any fondness for MG will know that it's not a passenger car brand. But it is one option that MG Rover has left; launching an all-new brand, as ARCONA (Austin Rover Cars of North America) found with Sterling, is an expensive proposition and the money is not there.
MG's X Power sub-brand has really been a British phenomenon, unknown to overseas markets. At the time of writing, the MG global page still showed an old-style MGF. There is a disturbing lack of definition that suggests that MG Rover has a lot of work to do to position the MG brand in consumers' minds in the future. It should have, certainly by now, been more confident to state it. Perhaps it cannot, till the global picture becomes clearer, along with the potential model range.
The last three years have been about survival. The company has had the guts to make the right fundamental moves, getting ready product to fill some very large holes. But now it is time to see where the brands should be. It should really have been done earlier, but better late than never. It means changing some aspects of Rover's organizational behaviour and communicating its vision far more strongly at each function. It hasn't happened yet—but needs to do so well before the company takes any further steps with its growing number of allies. Kevin Howe, you have done well—now take the next step. •