'Swedes have been farmers. We want the surroundings to function first, then we look at the design. Make it simple, we say. We do not have a ruck-sack with all the history of the Renaissance period.'
CARL ZEDIG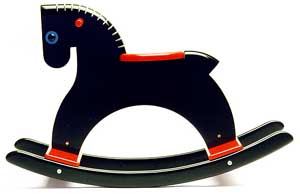 4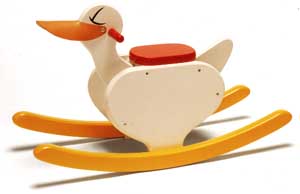 5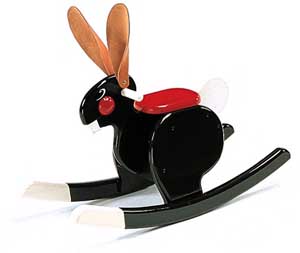 6
From top The different approaches between Hanses and graphic design-based Dahlström are illustrated here by their designs. Hanses' Rocking Horse (4) is like his Streamliner: an absence of details, leaving it to one's imagination. Dahlström, however, adds more ornaments. 5 His Rocking Duck resembles a duck more closely, as does his Rocking Rabbit (6). The rocking toys shown are Kr 688. Below, 7 Playsam's tribute to another classic Swedish design item, the 1952 Saab by Sixten Sason. At Kr 1 018, it is one of the more expensive items in the Playsam range.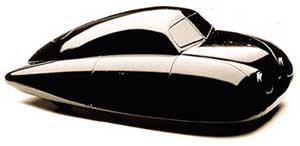 7

continued
The goals of the designer and the company may be different, and it is over to Zedig to determine the brief. 'The designer must understand and accept the design profile, image, impact, or what you call it. Within this, they are free to work. Ulf Hanses and Björn Dahlström know this. New or young designers have problems understanding why this is so important.'
It was Zedig who spotted Hanses' toys for the handicapped and realized there was talent to be tapped. Hanses had begun his design programme for handicapped children in the 1980s. 'I saw something new in his design for handicapped children and asked if he would like to make a new series of wooden toys. We showed the new line at the Nuremberg Toy Fair in 1985. A buyer from Habitat, Christine Nanty, said to me: "Mr Zedig, these are not toys for children, these are executive toys."'
He continues discussing Hanses' inspiration. 'Someone said, "I have always been a believer in the value of a good daydream." I think Ulf Hanses, in his childhood, was a daydreamer (I was, too). He has kept it that way. Daydreams are an important part of his life. The great architect [and designer] Raymond Loewy is Ulf's idol.'
The approach of Dahlström is very different. 'Björn Dahlström started as an art director and graphic designer. You can see that very clearly if you look at the Rocking Rabbit and Duck. They have faces and an individual look. The Rabbit has ears, cheeks, teeth, eyes and tail. The Rocking Horse made by Ulf Hanses has nothing visual. It is simple, too simple for small children. The Rabbit is the best seller, but the Horse is most often pictured in magazines.'
Most notably, Playsam's Streamliner car was chosen last year as one of Sweden's classic design items. There is an aura of timelessness about it. 'It was made in 1984, but is very modern, stiil, and will last for many years.' Writer Susanna Skarrie Wirtén wrote of the Streamliner, 'The Streamliner was originally drawn for children, but soon became the darling of all design enthusiasts.'
When asked about the uniqueness of Swedish design, Zedig is frank. 'Swedes have been farmers. We want the surroundings to function first, then we look at the design. Make it simple, we say. We do not have a ruck-sack with all the history of the Renaissance period.'
Indeed, it was the last 100 years that saw a Swedish design culture emerge in full. Late last century, Swedes were already making a name for themselves in furniture, with an emphasis on simplicity of form and light colours. The Swedish design movement was strongly influenced by the Bauhaus, and unlike the Germans, Swedes were able to carry on this democratization of design through the 1930s and 1940s.
A well-known example of Swedish industrial design is the Saab saloon, designed in 1952 by Sixten Sason. It is still regarded as a classic, with its streamlined lines. Playsam has its own version, simplified further, paying tribute in its own way.
The future will see Playsam create new products, all capturing the simplicity and function which have made the brand famous. Zedig recalls the design process: 'Sometimes Ulf and I have long chats on the phone. We live 600 km from each other. Our conversations can last for hours. I can hear the sound of a drawing pencil as our chats go from subject to subject.' It is this quest for simplicity and function which has brought us the Streamliner. There is little doubt that other classic products will emerge from the countless sketches, coupled with Sweden's unique design culture.

Jack Yan
Jack Yan is editorial director of CAP.