continued
Sweden is already among the world's leading nations when it comes to music. Despite its small population of eight million, the nation is highly visible on the internet, with retailers such as Boo.com.
Swedish design and its world-class standing should fascinate most professionals. As with most Swedish industries, the design sector is unique, with specific cultural influences at play. Cynics may laugh at Volvos looking like crates

but think again: how many automobiles can stay virtually unchanged for 20 years? There is a certain classicism built into Swedish design, whether it is graphic or industrial. One needs to look no further than Ikea furniture or the Absolut Vodka bottle by Carlson, Broman and Brindfors. Or the Berling typeface by Karl-Erik Forsberg.
Capturing the classicism in miniature form with its range of executive toys is Playsam. Carl Zedig, design director at Playsam, works with Ulf Hanses and Björn Dahlström, who create the company's range from their respective backgrounds in industrial and graphic design. Hanses is arguably best known for the award-winning Boda Nova thermos, and admits that his own playfulness inspires him to create toys for both executives and the handicapped. Dahlström is a jack of all trades, starting in graphics for print and animations for TV. He is a respected art director and designer, and due to his adaptability, 60 per cent of his work today is in product design.
There are elements of the toys which tie together, but which, at the same time, reflect each designer's personality. Zedig's responsibility is to coordinate and to make the final decision on what goes to market.
Working with two very different designers is a skill that Zedig has mastered, thanks to his instinct and knowledge for design. He exhibits an understanding about what makes his company's designs unique. 'Most important is the simplicity. When you look at a Streamliner [one of Playsam's classic products], your imagination adds details.' When one examines other Playsam products, the philosophy remains. There is a simplicity of form, plus a sense of delight and humour. The colours are striking, and the lines are clean and classical.
Zedig adds, 'The car has a personal relationship to everybody. People who like model cars do not see anything with our toys. They cannot identify the "real car".' Playsam, therefore, introduces an element of "interactivity" between the person and the product.
continued

'Most important is the simplicity. When you look at a Streamliner, your imagination adds details.'
CARL ZEDIG


1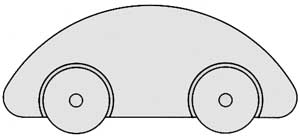 2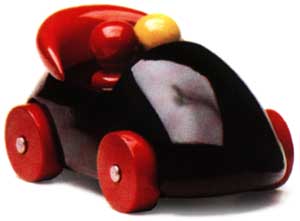 3
1 Ulf Hanses' Streamliner (1984), named as one of Sweden's classic design items in 1998, according to Zedig. Current price is Kr 155. 2 Size of the standard Streamliner. 3 Like a real car, the Streamliner's popularity has seen a spinoff cabriolet version

and like a real car, the price goes up, here to Kr 208.