It is hard to imagine, without the selling clout of the Ford Motor Company, that the Laser would do well. Because here is, once again, the Japanese formula of the domestic appliance on wheels.
Related articles
Which Ford where? (June 1999)
Big Aussies (September 1998)
Future tense (May 1998)
Mazda's woes reflected in boxy designs
June 1, 1999
Ford made a fuss of its global programme some years ago, but it doesn't really apply to the hotly contested compact "C" sector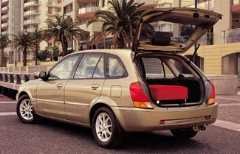 Ford's Mazda 323-based 1999 Laser - the rear end looks too unharmonious and the entire effect is plain weird
IT IS with much sadness that the residents of Japan, Australia and New Zealand, along with other Asia-Pacific nations, will not get the Ford Focus in their showrooms. This brilliant Car of the Year is going to be the exception to the global plans that have marked Ford strategy since the early 1990s. Asia-Pacific buyers will get a rebadged Mazda 323 badged as the Ford Laser - a strategy followed by most of these markets since 1980.
The Focus has already been acclaimed as the best compact car out there, with its independent rear suspension, edgy styling and quality, handling and ride to beat allcomers, including the Levi jean of hatchbacks, the Volkswagen Golf. The styling might not be to everyone's tastes, but it is hard to imagine, without the selling clout of the Ford Motor Company, that the Laser would do well.
Because here is, once again, the Japanese formula of the domestic appliance on wheels. At least Toyota has gone trendy with the bug-light Corolla for Europe and New Zealand. Ford's offering is an incongruous mix of Mazda boxy and Ford New Edge, with the centre section of the 323 and a redesigned front and rear end. Unlike Toyota, which has managed to adapt the Euro nose and tail successfully to the three- and five-door hatchbacks with some inspiration from the Fiat Bravo, Mazda's designers have made the new nose and tail look as though they don't belong there. And they don't.
It was only in recent history that Mazda gave us the most exciting cars from Japan, eclipsing even Honda. The Lantis/323F/Astina hatchback, on sale between 1994 and 1998, was a five-door coupé whose looks haven't dated a day since its launch. The Miata/MX-5 lasted 10 years, far longer than the typical four-year product lives of other Japanese cars, and is still an evergreen, looking better than the car which succeeded it. The Eunos 500/Xedos 6 is still among the best looking mid-sized cars on the market: not only does it look the way a 1990s Jaguar Mk II should, it is more stylish than anything in this class out of Germany - and I'm including the 2001 Mercedes C class and the Chris Bangle-designed BMW 3-series.
Exciting designs such as the Lantis and Eunos 500 were not what got Mazda into financial trouble. Alfa Romeo builds beautifully created automobiles today and is healthy. Mazda's fault lay in a management which did not foresee the early 1990s recession - and who can blame them after the 1980s? Their plans were ambitious, creating new brands for cars and diluting the core brand. Mazda's own identity was clouded, with staff not knowing what they were selling because there were too many models. The Mazda 626, for example, was sold under six or seven different guises, including the Capella, the Autozam Clef, the Eunos 500, and the Ford Telstar. That is fine if you are General Motors or Toyota, but not for a company as (relatively) small as Mazda. (For a marketing analysis, think of Chevrolet dividing its range up into seven brands.) That led to the first non-Japanese head of a major Japanese corporation being appointed, Scotsman Henry Wallace, who worked through translators every day.
Kansei engineering and other innovations in working contributed well to Mazda's product. If it had stuck to its core brand with a clear division of models, then the designers today wouldn't need to retreat to towing the corporate line. Normally cars get better looking and more current with each body change; sadly that cannot be said of any current Mazda offerings. Ford dealers selling Mazda product have to grin and bear the next four years with a compact design that can only be termed pessimistic.

Jack Yan
What Ford where? CAP's guide to Ford's confusing compact car strategy post-1980
Jack Yan is editorial director of CAP.

Home | Contents | The Front Desk
Your feedback is welcome. Due to the amount of mail we get, we may not be able to reply to every message.