continued

1991
'Interesting' Très intéressant
On April 1, Nicole and Papa are introduced to British screens for the first time as is the Renault Clio, the small car with big-car specifications and refinement. Papa is supposedly asleep in the garden of the château, so Nicole sneaks off to see her boyfriend.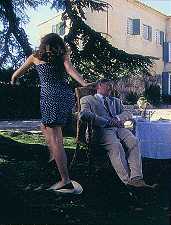 Papa sees that his daughter has gone and goes off on his rendezvous with a ladyfriend. Upon their return, they greet each other with 'Nicole!' and 'Papa!', and thus begins an advertising legend.
1992
'The Date' Le rendez-vous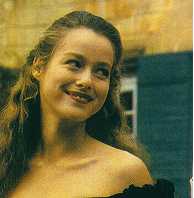 Before Elizabeth Hurley wore Versace, 'that dress' referred to a custom-made £350 dress which Nicole wears on a special night out. To her horror, her date has arrived on his motorcycle to collect her. Papa comes to the rescue with his Clio 16v, but realizes that after the pair's departure his only transportation is the motorcycle. Bernard the chauffeur has to take Papa, riding pillion, into town.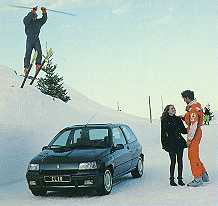 1993
'Ski' Le ski
By now a firm part of British culture, the producers took a slight departure by setting this third campaign in the French Alps. Nicole drives down a snowy mountain to meet her boyfriend (number three) and Papa. Papa is going by ski but loses control, flying over Nicole and her boyfriend. When he crash-lands, the pair are showered with snow. Although a stuntman performed the jump, actor Max Douchin (Papa) is in fact an able skier.

1994
'Transformation' Transformation


With the arrival of a slightly revised Clio model for 1994, Nicole herself gets a makeover. Nicole becomes the sophisticated young woman about town, visiting boutiques and stores for new clothes, a hat, a facial and a new hairstyle. About to meet her (new, again) boyfriend, Papa sees her and is startled by her new look.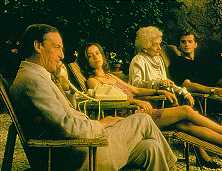 1995
'Maman' Maman
The twist in the tale: teasers told us to expect 'Maman' when Papa suddenly gazes at Nicole in shock when on the telephone - and thus entered the third word in the characters' vocabulary after five years. Back at the chateau, both Nicole and Papa get into their Clios and hurry to the railway station. It turns out, after some anticipation from the audience, that the woman they collect is Papa's mother - Nicole's grandmother.

1996
'Moved on' Le changement
By now, the client and agency wanted a greater change. The advertisements still feature Nicole but Papa is out of the picture in this instalment, created to coincide with a facelifted Clio. Set this time in Paris, with a blue tint and a new soundtrack, Nicole wakes up and prepares for a job interview.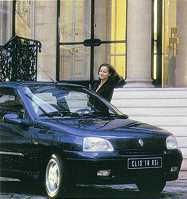 She eventually arrives at to meet a stern-faced interview panel. When she collects her car, her grin suggests that she has the job.
1997
'Parallel Lives' Vies parallèles
Papa makes a return in this split screen instalment, with Paris on one side and Provence on the other. Each go through their daily routine, not knowing that the other is doing the same thing: leaving the house, going through either the streets of Paris or the vineyards of Provence, to a rendezvous:

Nicole with her new boyfriend and Papa with his new girlfriend.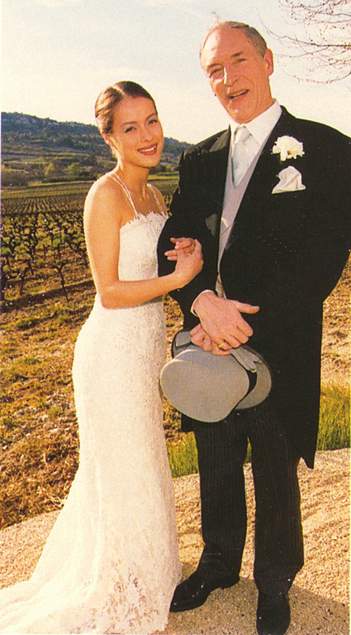 1998
'The Wedding' Le mariage
With the launch of the new-model Clio imminent, the decision was made to script the last instalment of the series. It would also have to guarantee a fantastic launch for the new car. It was decided that Nicole would marry, although the groom's secret was kept under wraps till May 29. 'Thousands of men around the country,' said Renault's tongue-in-cheek press release, 'are reported to be broken-hearted at news of Nicole's impending marriage and some have even gone to the lengths of putting up "Don't Do It, Nicole" posters in an effort to change her mind.'
Tatler editor Jane Procter said, 'I think her choice of husband is intriguing, the setting is amazing. I think that to find one of the most beautiful churches in France is a master stroke.'
"It" girl Tara Palmer-Tomkinson said, 'I can't understand what she is doing getting married. I mean, she is giving up everything. She is one of the most beautiful, stunning, eligible girls around. She must be off her rocker. I mean, she had everything going for her, driving around the country in her Renault Clio, all at Daddy's, or rather Papa's, expense. I should be so lucky.'
Photographer Richard Young said that he might have to dress up as one of the bridesmaids in order to get a picture.
Wearing a dress by Deborah Milner and a hairstyle by Nicky Clarke, with her ring designed by Stephen Webster, Nicole was led down the aisle to the as-yet-unseen groom.
The biggest surprise was the casting of British comedians Reeves and Mortimer. The wedding is off when Nicole chooses Bob Mortimer to Vic Reeves at the altar.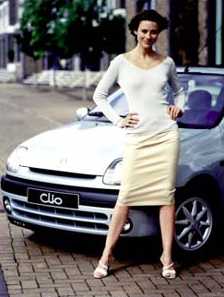 1999
'Size Matters'
With the new Clio firmly established, the advertisements take a new direction. French actress Hélène Mahieu and British actor Stuart Laing star in an unrelated series of commercials directed by Malcolm Venville, filmed in Barcelona and Lindisfarne. Jeanloup Sieff photographed the print campaign. Publicis knew Nicole and Papa would be a hard act to follow, and wisely broke away from the storyline.
So what's next? Perhaps Nicole and Papa: the Movie?
At least we know the script won't be long.