One of the greatest automotive designers in Italy, if not the world, celebrates three decades of independence and creating some of the world's most driven automobiles
Jack Yan
Editorial Director
W E M A Y as well have called this the Anniversary Issue of CAP, with the number of companies - including our own - which celebrated one milestone or another over the last few months. Turning to Italy, one of the most famous design companies turns 30 this week.
SIRP SpA ItalDesign (later ItalDesign SpA), incorporated on February 13, 1968, was founded by Giorgetto Giugiaro - already known for his work at Bertone - Aldo Mantovani, Luciano Bosio, Gino Boaretti and Hideyuki Miyakawa. The company bucked the establishment in Italian automotive design at the time, by bearing an invented name rather than that of its founders. It suggested that it was a styling company first and foremost; unlike the other great Italian names of Ghia and Pininfarina, involved in coachbuilding and manufacturing on behalf of other automakers. It also indicated that the organization would cast its wings further than just auto design and in many respects has paved the way for the high international standing of Italian design and competitors such as IDEA.
There is not an auto enthusiast in the world who has not heard of Giugiaro, usually in reference to the great sports cars credited to him: the


Maserati's aggressive, wedge-influenced Maserati Bora - the muscular style of the early 1970s

1966 Maserati Ghibli, the Iso Grifo, or the Maserati Bora. Born August 1938 in the Piedmont region of Italy, his parents expected him to join his father and grandfather in frescoing churches, but the 17-year-old took his artistic talent to Fiat after graduating at the Academy of Fine Arts in Torino, and being persuaded by Dante Giacosa of Centro Stile Fiat. By the time he was 21, he was frustrated with Fiat's bureaucracy - in contrast to today's company where design's value is held more highly than ever - and found himself at the Italian coachbuilder Bertone.
After a successful period at Bertone, under the guiding hand of the late Nuccio Bertone where he designed the Iso Grifo and the Alfa Romeo Giulia GT, he was offered the position of CEO of Ghia's ufficio tecnico e stile, where the De Tomaso Mangusta and Maserati Ghibli were designed. A breach of contract by Alessandro de Tomaso, who had purchased Ghia, saw Giugiaro leave to set up his own company, Ital Styling, in 1967. The company was incorporated with the partners in February 1968.
L I K E C O U T U R E, car designers have to present concepts - the futuristic designs which set out to grab attention as well as test potential ideas - in order to attract the bread-and-butter business of family hatchbacks or sedans. ItalDesign was fortunate to have created the fierce one-box Bizzarrini Manta, a coupé which still looks aggressive and stylish 30 years on, and has never looked back.
Giugiaro admits to being crazy about styling cars, but not about cars themselves. Bertone said in an interview with Autocar that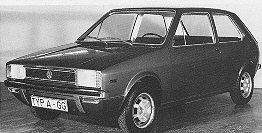 The design for the Volkswagen Golf/Rabbit was begun in the 1960s, showing that Giugiaro had the folded-paper concept in mind earlier than most believe. The squared-off Golf, often Europe's top-seller, was in direct contrast to the Käfer/Beetle which preceded it

Giugiaro initially 'made mistakes in details he wasn't yet familiar with, especially where manufacturing was concerned.' But soon the problems were overcome, Bertone having found the designer 'attentive'. Just how practical Giugiaro became can be seen in his mass-market designs: the Volkswagen Golf, and the Fiat Panda, Uno and Punto. His method of working is as an engineer's: starting with a model before creating renderings.
The designer believes that the renderings are impractical. In an interview with Autocar, Giugiaro told reporter Luca Ciferri, 'I see a lot of renderings from young students from the main design centres of the world. They have very bright ideas, they make these perspective drawings which are fantastic, but it is obvious from them that there is very little function.' Even the aggressive Lamborghini Calá concept of 1996 was designed to package mechanicals and chassis supplied by the sports car manufacturer. It is a realistic approach which realizes that 'the large-scale car industry has always been the domain of the engineers, who with their economical, structural and functional calculations became the real architects. Over the years, we creators have managed to get a bigger slice of the decisional cake regarding shape. I matured through the understanding that cars are objects to be composed and through the consequent study of the architecture of the composition.'
ItalDesign today is divided into 30 divisions, including a manufacturing consultancy which can implement everything from styling to sub-assembly engineering and experimental machining. The company employes 750 people, with 200 CAS-CAD-CAE and CAM workstations on site and the capability of producing one body per week, complete with chassis and trim. A Californian branch has recently opened, with a staff of 30.
Despite directly influencing the shape of automobiles we drive today, Giugiaro does not see himself as having done anything special. He believes that, like a street-sweeper (his example), we are all part of humanity. His distinction is that he has done his undeniable best.